Answering a job ad on Craigslist only to be connected with two world-famous cryptographers isn't exactly what you'd expect.
But it was 2003 Boston. Across the Charles River, a young Zuck was working away on his first iteration of thefacebook in Harvard's freshman dorms. The city was buzzing with startup potential, anything was possible, and the (tech) world was our oyster.
In this new blog series, I'll explore insights and experiences gained over my 20-year career chasing innovation and designing disruptive technology. In this first post of the series, I'll share lessons learned as the first design hire at Peppercoin, an early-stage and ahead of its time crypto startup—nearly two decades before bouncing QR code Superbowl ads made cryptocurrency a household name.
Micropayments, macro opportunity
My first taste of startup culture came in early 2003 when I answered that Craigslist ad from a local Boston startup.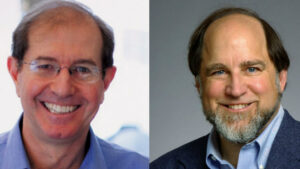 The company was Peppercoin. Founded by 2 MIT professors, Ron Rivest and Silvio Micali, Ron and Silvio were renowned cryptographers. Ron was the "R" in the RSA public-key cryptosystem and a founder of RSA Security and Verisign, while Silvio was an award-winning theoretical mathematician who later founded the blockchain cryptocurrency protocol, Algorand.
Together, they developed a cryptographic system for processing micropayments in 2001 named the peppercoin system. Peppercoin was created to commercialize this revolutionary new payment protocol as a SaaS payments platform.
Now, they needed a frontend web designer to bring the first version of the product to life. As the company's third hire (and their first and only design hire), I joined a couple of backend developers tasked with helping bring the MVP to market.
It was a steep task, but with a scrappy product team and a couple of Sloan School visionaries at the helm, we were ready to lead the revolution.
A chance to disrupt the payments industry
The opportunity Ron and Silvio were looking to solve in Peppercoin was to allow consumers to make microtransactions using their credit or debit cards without being charged the same transaction costs payment service providers typically hit them with on larger purchases.
They did so by using a concept called "universal aggregation." With this concept, the system would essentially aggregate a smaller group of transactions made with various merchants until the sum equaled around the $20 mark, after which they would submit it to the payment processor as a single transaction. This meant the consumer only got charged one single transaction fee for the group of aggregated transactions—instead of incurring transaction fees for each individual purchase.
The concept of micropayments was not new. Companies like DigiCash had attempted to introduce e-payments to the web in the 1990s. However, consumer expectations were that web content be free and so startups in the ilk of DigiCash failed. By the early 2000s, the landscape had changed. Napster had forced record companies to embrace downloadable music, and Apple was commoditizing it all with the introduction of iTunes and the iPod.
Ron and Silvio's idea of "universal aggregation" was revolutionary at the time. And as a company, we had the chance to truly disrupt the payments industry.
These were exciting times, and our small but mighty team, led by co-founders Perry Solomon and Rob Carney, put our all in to deploy the Peppercoin 1.0 platform by late 2003 and successfully launch the technology with a handful of merchants.
The next year opened my eyes to what startup life was really all about. Forget just the platform development—though we did launch a much-improved version 2.0 in 2004. It was the intense combination of bringing in new investors, growing the team quickly to be 20+ strong, and the survivalist nature of our new sales team as they fought to acquire new merchants to our system. It made me realize how challenging (but rewarding) it can be to make a theoretical idea a commercial reality.
When David meets Goliath
Being revolutionary and disrupting an established industry was never said to be easy. In my time at Peppercoin, I witnessed just how brutal it really can be when you assume the role of David in the world of Goliath-sized financial institutions. With every major step forward we made, the big credit card companies wagged the proverbial finger at us.
Apple became another threat early on too. One of the key opportunities the Peppercoin platform had was in supporting digital marketplaces, enabling merchants to sell digital products such as downloadable MP3s, ringtones, and digital wallpapers for under a dollar. In April 2003, Apple launched the iTunes Store and single-handedly changed the music landscape overnight.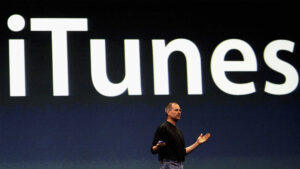 Suddenly, music became more accessible with the ability to purchase individual songs for 99 cents from the iTunes Store and the record labels flocked there. While the launch of the iTunes Store did not kill the opportunity for other digital marketplaces to exist, it certainly took the bulk of the market share with it.
Learning to pivot: Where agility beats scale
Peppercoin fought for survival against the odds that were quickly being stacked against it. With each battle came a pivot necessitating the evolution and iteration of the platform.
By 2005 Peppercoin had a new CEO and had made new appointments to its Board of Directors. With these additions came the experience and institutional knowledge that enabled us to push the technology into high-growth markets. The team also grew into an agile machine, giving us the ability to test new markets and offerings with our platform.
The platform became more versatile, transitioning from the support of just online retail to supporting offline retail through physical point-of-sale too. The business model also evolved to be more flexible to support pay-as-you-go, pre-paid, and subscription pricing options.
Rewards, lessons, and new beginnings
By the time I left Peppercoin, things were different. The frenetic energy of the early days had long since passed, no longer crammed together in a 12'x12' office alongside the Boston commuter rail. The sound of champagne glasses clinking in celebration of launching our first platform was a distant memory. The platform changed too.
In 2007 Peppercoin was bought by Chockstone Inc.—a provider of stored value loyalty services to merchants—and by then the platform had transformed into a card-based merchant loyalty program.
Spending two years designing and developing the frontend product experience of the platform, my time at Peppercoin taught me a lot about:
Navigating the complexity of productizing a theoretical concept
Why pivots are sometimes necessary to push a company (and product) forward
The value of teamwork and collaboration behind a shared vision
These were important lessons that, while they may not have registered with me at the time, helped form the foundation of how I have approached product development in the years since my days at Peppercoin, especially since my transition to design leadership.