Meet the PADI UX Team whose efforts launched PADI's new easy-to-use website.
by John Kinsella
Everywhere you look in diving the team concept prevails. There's the buddy team, the cornerstone of safe diving. There's the instructional team – instructors and divemasters working together to achieve more than they ever could individually. Together, technical diving teams push the limits of underwater exploration. Now there's a new team in the dive industry that you might not have heard about, at least not yet: the PADI UX (user experience) Team.
Teams need a leader and for PADI UX that's Charles Crawford. His small, experienced team looks at PADI's digital touch points, whether consumer or member, including touch points within PADI Regional Headquarters. This covers both operational and product responsibilities. If someone is going to interface with it, the UX Team makes that experience as easy to use as possible while providing the most value.
Originally from South Africa, Crawford's formal education and early experience was in industrial (physical) product design. He shifted to digital product design as the business world evolved. He has worked in a variety of industries, both in-house and through agencies, in London and Boston, with clients ranging from Motorola to Adidas and HBO, before finding his way to PADI. He also worked for a number of start-ups in Boston, which is a bit of a hub for spin-out technology from MIT and Harvard.
"The great thing about start-ups is that they help you understand the need to be fast and efficient," Crawford points out. "You always have to be ready to put your proposition in front of investors!"
In addition to speed and efficiency, Crawford understands the importance of a trans-national mindset. He's traveled extensively, and has seen the PADI logo all over the world while backpacking.
"When designing PADI products, you have to understand that PADI is a global brand with a presence in many different countries with many different cultures."
"I'm concerned with understanding how everyone relates within the world," he explains. "When designing PADI products, you have to understand that PADI is a global brand with a presence in many different countries with many different cultures." As a result, the UX Team looks at things contextually with the understanding that a PADI product will be used by a multitude of different user types in different situations.
In the UX industry, this is called user-centered design and it's not new – it evolved from the good old-fashioned physical product. In the mid-20th century there was a dramatic rise in mass production. Technology was first applied to create fast and efficient production lines. The next evolution came with the realization that if people can't use something easily, if it doesn't have value, or even if they simply don't like it, they're not going to buy it. In response, marketing and engineering came together and began to design for the end user.
"In everything we do we think user first, whether for consumers, members, business owners or employees. We make sure it's easy to use and brings value at the end of the day."
"As we evolve into today's more technological world, UX has continued that effort," Crawford says. "In everything we do we think user first, whether for consumers, members, business owners or employees. We make sure it's easy to use and brings value at the end of the day."
The Power of a Three-Pronged Approach
To achieve this, the PADI UX team works alongside the technology group and the product group. A bit like St. Patrick's famous three-leafed shamrock, these three core groups – technology, product and UX – make the product. The technology group addresses how something is going to be built and the technologies that will drive it. The product group looks at how the product fits into the PADI System of diver education and evaluates it as a business proposition. The UX Team is responsible for the experience – how it's going to look and feel for the end user.
The UX Team's work begins with user research; the planning and discovery phase. Crawford explains that, "Before we decide anything, we have to understand who we are designing for – that's the contextual part. We tap into ongoing research, or if it's a product unlike any we have made before, we find new research. It's research into what's happening in the industry, what's happening in the market, what are the user behavior trends, technology trends, etc." The goal is to develop a solid understanding of both what's out there and the actual users. Focus groups, interviews with potential users, surveys and online polls help the team understand the mindset of potential users.
Phase two is design. This has two main parts: information architecture (which looks at things such as navigation and taxonomies – basically how information is organized) and interface design (where designers build out what the end user will see). The last piece of this phase is testing; everything goes back to the users again. The process starts with understanding what a user is looking for and ends with checking that the user will accept the product as designed.
Redesigning padi.com
An excellent example of this process is the redesigned padi.com. One of the first tasks was to look carefully at the current site and conduct surveys to determine whether people were able to find what they were looking for. The website at its core is an information site. It's where people first encounter the PADI brand digitally. If you do a Google search for "scuba diving," padi.com is very likely to be ranked on the first page. Because it's the gateway to the brand, the UX Team asked, "How can we ensure that first-time or returning users can truly understand PADI as a brand and grasp the breadth of offerings we have?" The next step was to ensure users could find the information they were seeking and to encourage them to find a PADI Dive Center or Resort, or to contact a PADI Regional Headquarters directly.
The color palette of the site reflects the PADI brand, complements the imagery, and brings to mind the colors of coral and of the ocean itself.
Another goal of the new website from a design perspective was to promote PADI's brand identity as well as the excitement and engaging aspects of scuba diving. The idea was to communicate the essence of scuba diving. A vital part of this is to use underwater photography and video, which is a great way to show people what they will see and experience. This is achieved with full bleed imagery and video content, which is a bit more immersive than static imagery. The color palette of the site reflects the PADI brand, complements the imagery, and brings to mind the colors of coral and of the ocean itself. These subtle visual elements serve as a kind of introduction to what the user will ultimately experience while diving.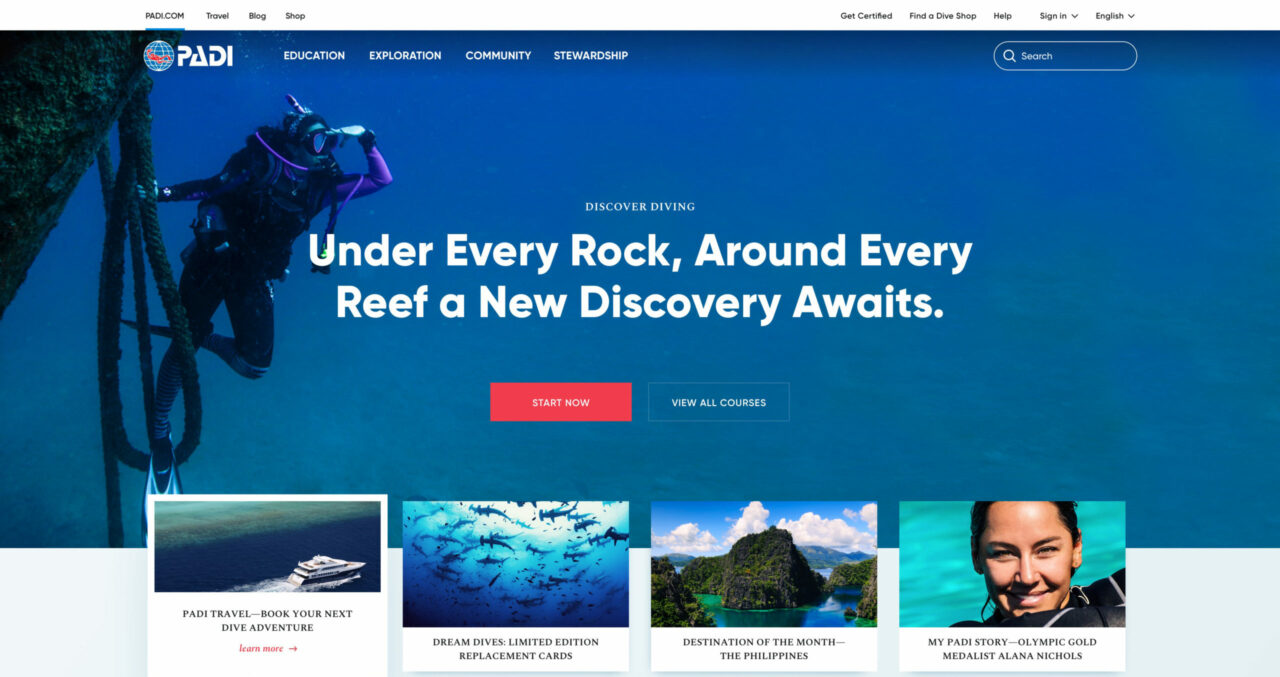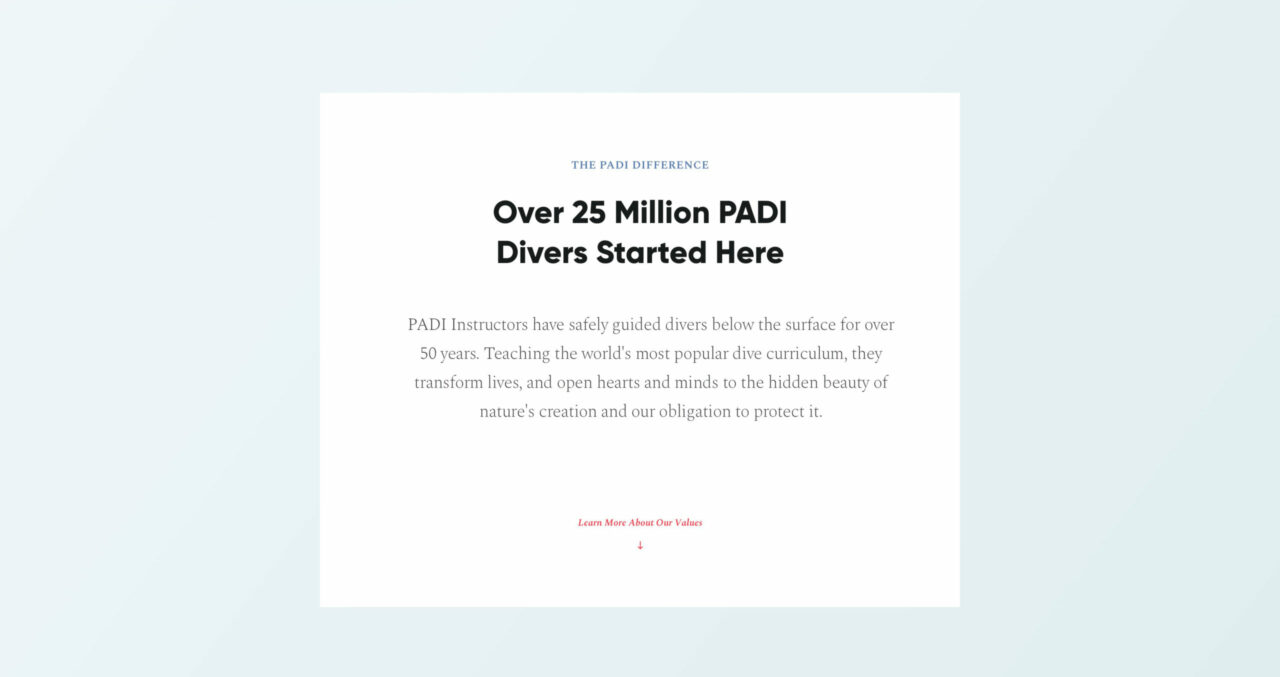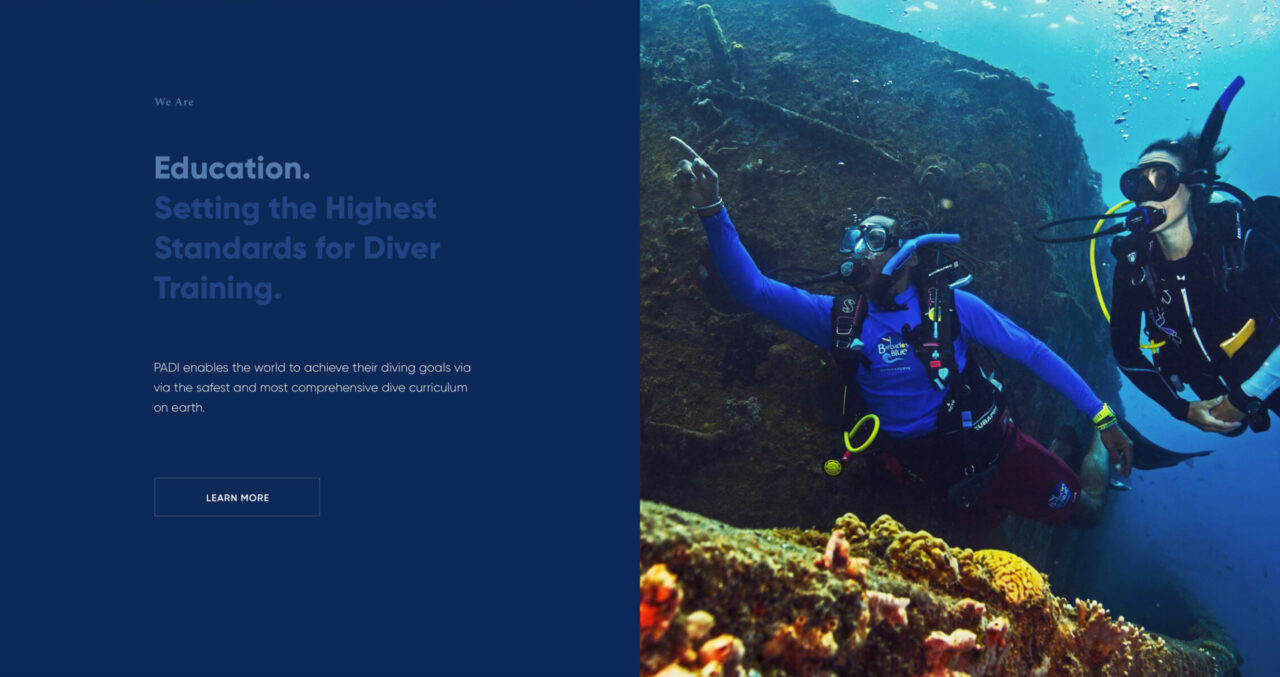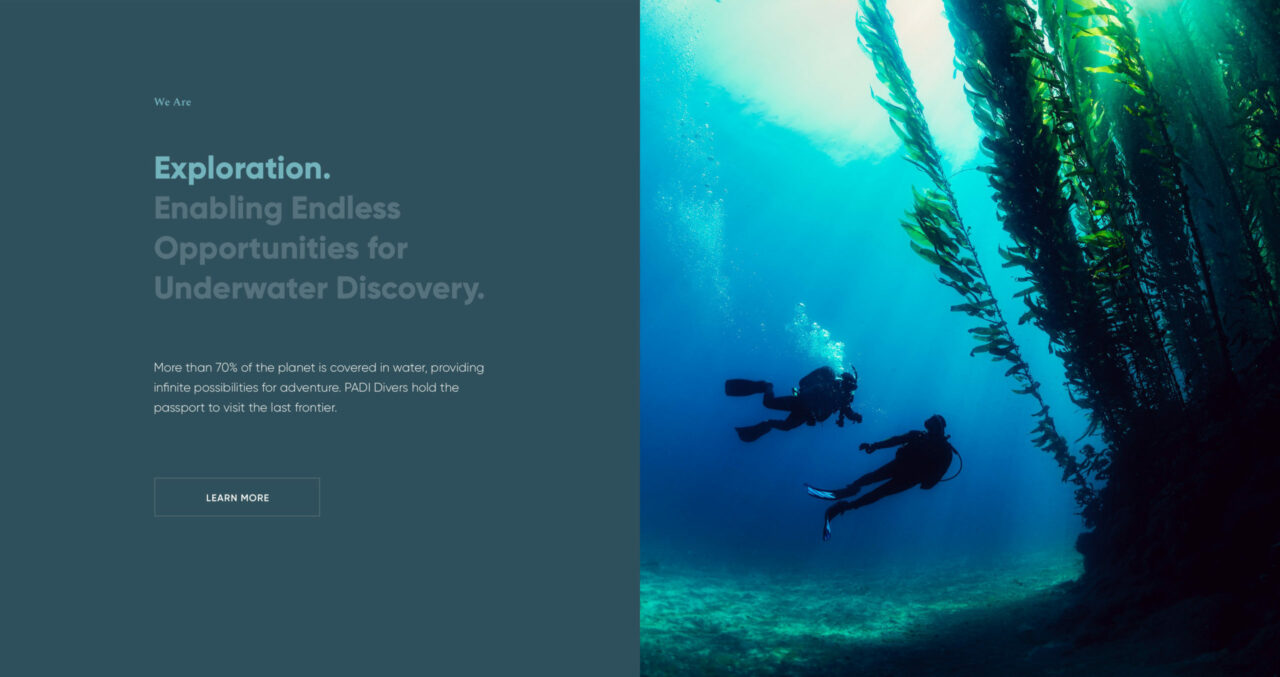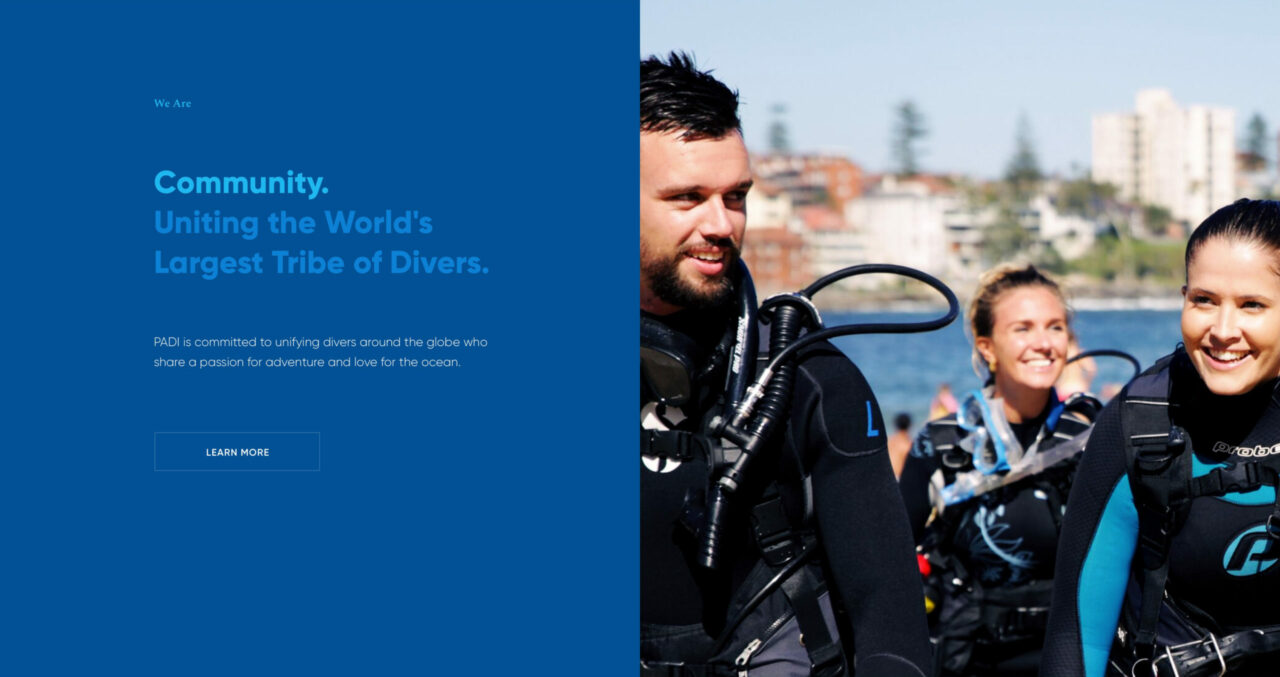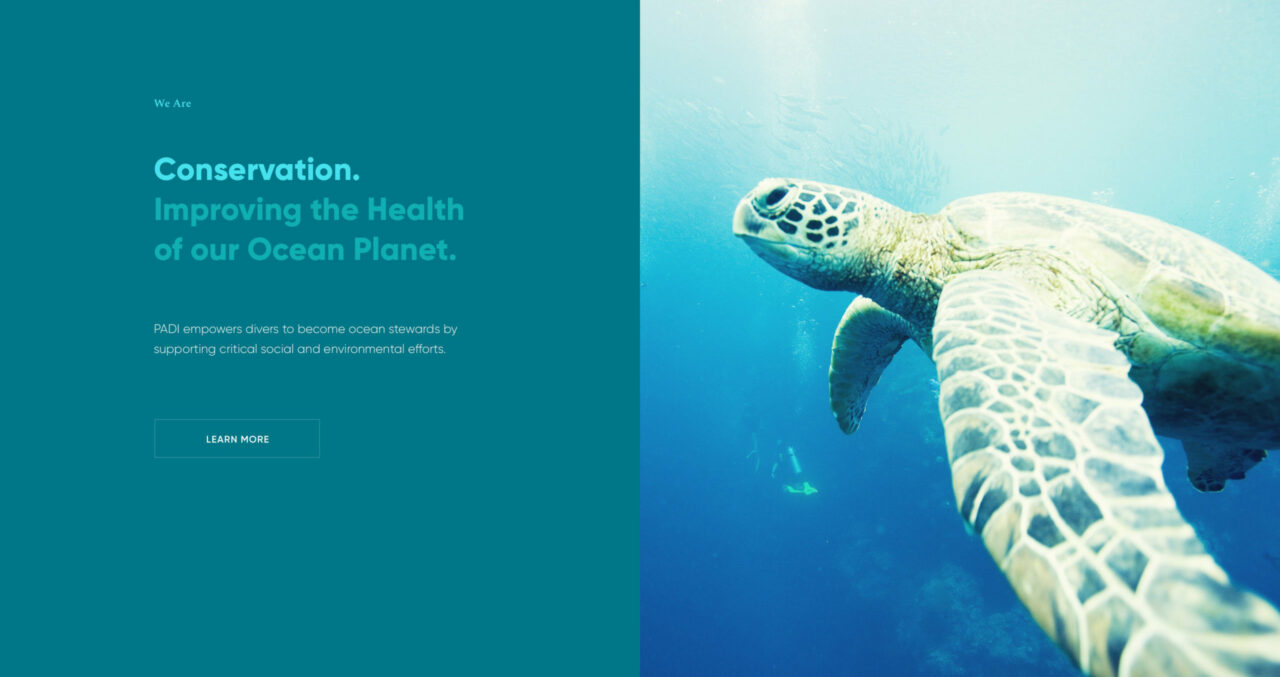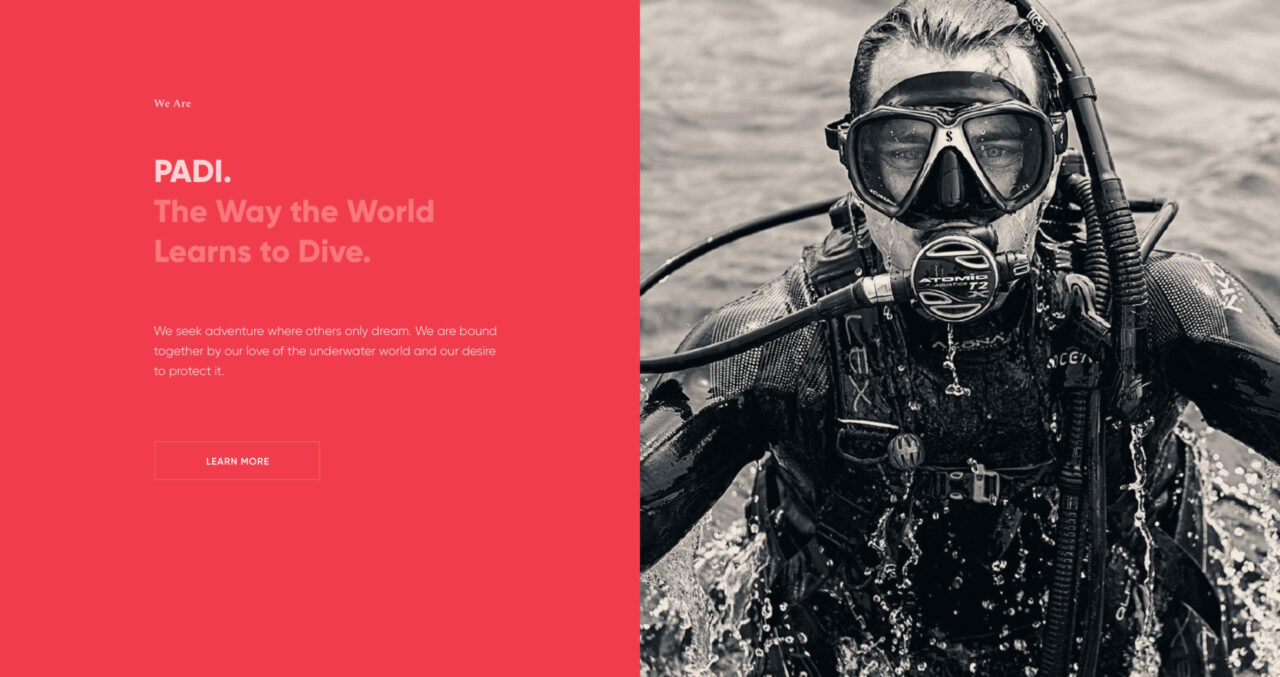 On the technical front, the redesigned padi.com addresses how people access the site. Mobile is the key. Updating the responsive design allows people to use the site in a consistent way and optimizes the site for specific devices. Whether accessing the site from a desktop, laptop or phone, responsive design ensures the text is readable and that information flows in a way that is easy and natural to follow.
It's also straightforward for people to navigate the site so they can find the information they seek. Keeping an eye on conversion rate optimization helps streamline the way that people flow through the site. A "conversion" can simply be finding the information needed or completing a task, such as using the Dive Site Locator (DSL) or making a purchase.
How Does This Benefit You?
Apart from padi.com's extensive reach and the obvious value of the DSL, how can the site benefit you directly?
If anyone can answer that it's Greg Parsons, Product Owner for padi.com. The number one thing he mentions is simplicity. In the early days of the web, people put everything out there and, to put it mildly, the internet became a convoluted mess and made accessing information very difficult. The new design of padi.com takes a very simple approach and is a great example if you're seeking a template for redesigning your website. This simplicity makes viewing the site more intuitive, pleasant and less busy so users are not overwhelmed with clutter.
The next thing Parsons mentions is metrics. This means monitoring what people are looking for and rearranging a website to be as efficient as it can be. There are a number of tools available, but perhaps the best place to start is with website analytic software, such as Google Analytics. "Just using anything that will produce a heat map of what people are clicking on is a good way to go," Parsons says. "You want to see where people are exploring your site and what they are clicking on the most. If clicking on Open Water Diver is your number one seller, you want that front and center. See where users have to go to find this, then make it more prominent. Review your heat map regularly."
Parsons also advises having great content that people want to link to. And, considering Google AdWords and similar tools that show within the Search Engine Results Pages (SERPs). You want to take steps to improve your website ranking in Google, Firefox, Bing and other search engines. Making time, regularly and consistently, for search engine optimization (SEO) work also gets your pages more easily found when people use certain search terms. This is not a one-off effort, but an ongoing process that a lot of people let slip.
Take a page from the PADI UX Team's book and put simplicity, value and ease of use at the top of your agenda.
This article first appeared in 'The Undersea Journal' Fourth Quarter 2018 edition.